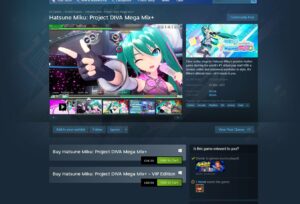 After a SteamDB listing showed up for it just the other day, Hatsune Miku: Project DIVA Mega Mix + has shown up on Steam… and it's out now! Coming in at £34.39… for the sake of Japanese puns.
A port of the Nintendo Switch port of Future Tone (wrap your head around that one), this updated version includes the much requested option to turn off Mega Mix's toon shader, meaning you can enjoy visuals that are accurate to the arcade version.
Also available is a £49.99 VIP Edition, that includes 72 extra songs and unlocks all of the game's many, many customisation items instantly as a time saver.
It's an extremely welcome surprise, and it's great to have the Project DIVA series make its PC debut; let alone with perhaps the most comprehensive game in the series.
You can get the game on Steam here. 
When Tracker isn't playing SEGA games, he's talking about SEGA games. Or drawing about SEGA games. Or all of the above. You can also catch him over on Twitter.