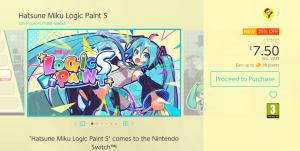 Hatsune Miku has another Nintendo Switch outing, available now; and while SEGA aren't involved with this one, Hatsune Miku Logic Paint S is worth highlighting just because it's a combination of often SEGA-adjacent virtual popstar Hatsune Miku and Picross, which is a match made in heaven. Probably.
Previously available on smart devices, Logic Paint S has surprise-launched on Switch in Europe and other regions, with an introductory 25% discount. That means for as little as £7.50, you can get your hands on 350 logic puzzles, and Miku and friends happen to be there too. For those who've never played Picross, you have to make pictures by following the numbers at the top and left side of a grid, with the size of the puzzles expanding dramatically as you progress through the ones on offer. There's illustrations of Crypton Future Media's Piapro Characters to unlock, as well as songs from Piapro's Song Contest.
It's a nice offering for Miku fans – on the topic of SEGA, there is an official Picross x SEGA game in the works, based on the art of Mega Drive and Master System titles; but sadly it's been AWOL for quite a while now.
When Tracker isn't playing SEGA games, he's talking about SEGA games. Or drawing about SEGA games. Or all of the above. You can also catch him over on Twitter.
Tags: hatsune miku, Hatsune Miku Logic Paint S, nintendo switch