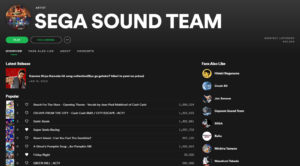 UPDATE
The removed tracks have now returned to the service – along with some new additions, including Phantasy Star Zero, Roommania and Ollie King soundtracks. Much like the last time happened, it seems the downtime had something to do with expanding to other services, as SEGA has added their music library to new services such as Rakuten and LINE Music over the past day or two.
ORIGINAL STORY
And now for some not-so-good SEGA music news – SEGA's back catalogue on Spotify has suddenly dwindled from the comprehensive selection it offered, virtually overnight – with a seemingly random selection of the company's beloved music being pulled from the service.
Right now, it's probably easier to list what is still there than what isn't; most Sonic soundtracks have survived the cull, as well as soundtracks for Yakuza, Chain Chronicle, Border Break, Rhythm Thief, Jet Set Radio, Super Monkey Ball: Banana Blitz HD, NiGHTS Journey of Dreams and IDOLA Phantasy Star Saga. Even Rent a Hero's soundtrack release is still up!
…however, that leaves a lot on the cutting room floor. The original NiGHTS into Dreams soundtracks, for example, are now nowhere to be found. Music from SEGA's arcade lineage, including Power Drift, Space Harrier, OutRun and others have also been axed from the service. Other soundtracks removed include Virtua Fighter, Puyo Puyo, and even the SEGA Sound Team [.H]'s rearrangement album (although Takenobu Mitsuyoshi's album From Loud 2 Low is still up, somehow).
Even Sonic wasn't completely safe – in addition to part of Sonic Generations' and Sonic Rush's soundtrack being AWOL for a long time now, Team Sonic Racing's soundtrack has now also vanished – kind of a confusing removal, given how recent it was.
However, this exodus may not relate to SEGA directly; as noted by several users, albums from EXIT TUNES, a Japanese label responsible for many Vocaloid album releases, have also gone. Could it be a legal thing holding these soundtracks back from the service? The main point of confusion is why certain albums are affected, while others remain up.
It's worth noting that this isn't the first time SEGA soundtracks have vanished from Spotify – the same thing happened 2 years ago, with many of the same soundtracks affected, and it wasn't until nearly a month later that they began to return. Fingers crossed we see a similar return this time.
When Tracker isn't playing SEGA games, he's talking about SEGA games. Or drawing about SEGA games. Or all of the above. You can also catch him over on Twitter.