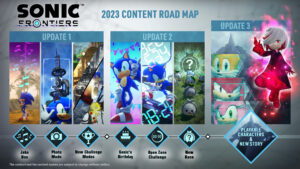 The official Sonic the Hedgehog Twitter account has revealed that Sonic Frontiers will continue to see updates and support into 2023. The account has also shared a "content road map" which highlights 3 major updates. These will include the following features:
1) a new juke box mode, a new photo mode and new challenge modes will be added in the first update
2) a Sonic's birthday event, a new open zone challenge and new koko will be added in the second update
3) a new story chapter and new playable characters will be added in the third update. Tails, Knuckles and Amy are all hinted at being made into playable characters
All of these additions and updates will be made available for free for owners of Sonic Frontiers. This is a surprising and welcome commitment from SEGA that should keep Sonic Frontiers feeling fresh into the new year.
[Source: Sonic the Hedgehog on Twitter]
Webmaster and lead writer at SEGADriven. Likes old games, heavy music and too much pizza. Follow on Twitter @kronkblats