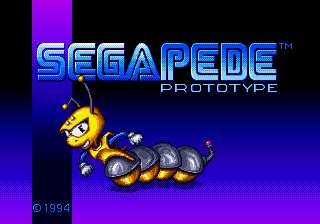 Craig Stitt's SEGAPede game has been discussed previously as some footage of it had been released back in August 2020 where it was known as Astropede. The game was pitched as a spin-off to the Sonic series where you play as a badnik who befriends Sonic. Using existing Hidden Palace tile-sets from his work on Sonic 2, Stitt developed a prototype to pitch to SEGA but the game was never picked up.
Now thanks to the amazing work of Hidden Palace, this prototype has been dumped and archived so we can actually experience the SEGAPede prototype in all its glory. You can check out direct capture of the game via the embed below:
You can download the SEGAPede prototype from the game's entry on the Hidden Palace wiki. The ROM will run under emulation or on real hardware. Thanks again to the Hidden Palace team for their incredibly digital archive work and making sure this piece of SEGA history is now available to all.
[Source: Hidden Palace]
Webmaster and lead writer at SEGADriven. Likes old games, heavy music and too much pizza. Follow on Twitter @kronkblats