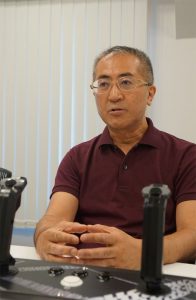 After 28 years, Juro Watari has announced he's departing SEGA as of today (February 28th). The announcement came via a thread on his personal Twitter page.
Watari was involved with a number of games during his time at SEGA, including L.A. Machineguns, Dengeki Bunko Fighting Climax, and 7th Dragon III Code: VFD. But by far his crowning achievement at the company was becoming the defacto creator of the Cyber Troopers Virtual-On Series, SEGA's beloved mech arena fighting game.
In recent years, Virtual-On has seen a surprising crossover title with the Index light novel series, and a fresh collection for PlayStation 4 in Japan, as well as a bizarre collaboration with healthcare company TANITA to make new controllers for modern iterations. Sadly, the series has been dormant in the West for years now; the PS3 release of the original game's HD port remained Japan-exclusive, as did the Index crossover and PS4 Masterpiece Collection. On a brighter note, Virtual On: Oratorio Tangram is available on current Xbox systems via backwards compatibility.
It's a shame to see Watari depart, but nearly 30 years at the company is a staggering run. We wish him the best with whatever comes next!
When Tracker isn't playing SEGA games, he's talking about SEGA games. Or drawing about SEGA games. Or all of the above. You can also catch him over on Twitter.