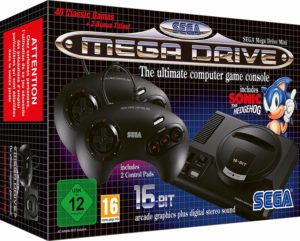 SEGA fans in Europe and the Middle East will have to wait a bit longer to get their miniature dose of Blast Processing, as SEGA has announced the mini-console will be launching two weeks later in these regions than originally planned – now it'll release on October 4th.
SEGA has cited "unavoidable logistical challenges" for the date change. Whilst unfortunate, two weeks extra isn't too long too wait, and they've given plenty of advance notice this time around. The American, Japanese and presumably Asian releases of the console are still set for September 19th.
[ Source: SEGA Europe on Twitter ]
When Tracker isn't playing SEGA games, he's talking about SEGA games. Or drawing about SEGA games. Or all of the above. You can also catch him over on Twitter.