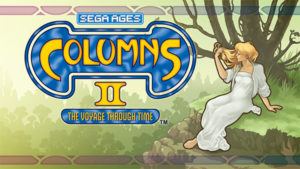 Columns 2: The Voyage Through Time is joining the SEGA AGES for Nintendo Switch lineup in Japan this week, bringing with it a slew of bonus features.
As previously reported, extra content includes a Endless Mode, an unlockable gallery featuring the art used in the SEGA AGES series' cameo-rich intros, netplay, and even a single-player version of the original Columns. This marks the first time Columns 2 has seen an international release, too!
SEGA AGES: Columns 2 will launch on Thursday 8th August, so about 4pm UK time on Wednesday 7th August. It'll be 999 JPY.
When Tracker isn't playing SEGA games, he's talking about SEGA games. Or drawing about SEGA games. Or all of the above. You can also catch him over on Twitter.