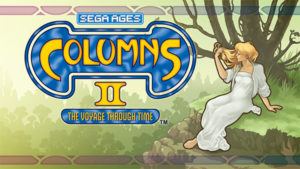 SEGA has confirmed that Columns 2: The Voyage Through Time will be the next game to join the SEGA AGES lineup. Notably, this is the first time the game has ever seen a release in the West – it was previously exclusive to Japanese arcades and a JP-only Saturn compilation.
The game's standard modes, Flash Columns and Vs Columns, will have you clearing puzzle stages and battling it out for Columns supremacy with a friend, respectively. In addition, new rulesets and Netplay have been added, plus a new mode – Endless Columns, which simply challenges you to get the best score. One particularly surprising addition for this release though – Columns 1! The well-known Mega Drive version of the original game will actually be included in this release, though modified a bit – there's no multiplayer, as it's based on a version of Columns produced by M2 for a Japan-only Yakuza 0 PSP app. Talk about deep cuts.
One last cool tidbit is that beating Flash Columns stages in this release will actually unlock content for an in-game art gallery. Here, you can unlock the art used for the characters in the SEGA AGES intros to view at your leisure, as well as profiles for the characters.
On the whole, the beefed up content in this port has certainly put it on our radar – going off previous releases, it'll probably be released next week in Japan. No news for the West, but again based on the other titles of late, it'll probably be released alongside Space Harrier in the future.
[ With thanks to GSK, who translated the information from the official site ]
When Tracker isn't playing SEGA games, he's talking about SEGA games. Or drawing about SEGA games. Or all of the above. You can also catch him over on Twitter.
Tags: arcade, Columns 2: The Voyage Through Time, m2, nintendo switch, sega ages