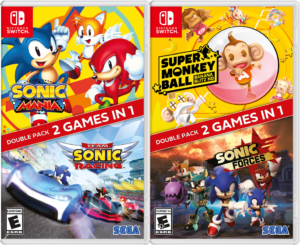 SEGA has launched two new combo packs for the Nintendo Switch in North America, both including a selection of Sonic games – or at the very least, games featuring Sonic.
One pack gives you the sublime Sonic Mania (seemingly without the Plus DLC, oddly) and Team Sonic Racing. There's also a pack that pairs up Super Monkey Ball: Banana Blitz HD (which featured Classic Sonic as an unlockable character) and Sonic Forces.
The packs are available for $39.99 each. The PR we received doesn't mention a European release (seeing as this comes straight from SEGA of America's Sonic PR), but given previous packs have released on our shores we'd expect these will be showing up too.
[ Source – Sonic PR ]
When Tracker isn't playing SEGA games, he's talking about SEGA games. Or drawing about SEGA games. Or all of the above. You can also catch him over on Twitter.