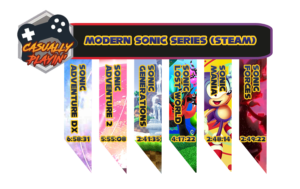 It is our pleasure to introduce you to a guest feature written by our good friend Pete "TitansCreed" Nethercote!
In this feature, TitansCreed takes a casual look at the Modern Sonic games that are available on Steam, and what it's like to stream them. If you're a PC owner and a streamer then this is an interesting little article that might help you prioritise which Sonic games are worthy of you and your audience's time.
Click here to read the full article.
Webmaster and lead writer at SEGADriven. Likes old games, heavy music and too much pizza. Follow on Twitter @kronkblats
Tags: feature, guest feature, pc, sonic adventure, sonic adventure 2, sonic forces, sonic generations, sonic lost world, sonic mania, sonic the hedgehog, steam, stream, titanscreed, twitch