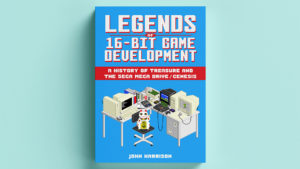 Raster Scroll have opened a Kickstarter for a new book called Legends of 16-Bit Game Development. The focus of the book is aimed at Treasure and their 16 bit Mega Drive titles that include Dynamite Headdy, Alien Soldier, Gunstar Heroes and more.
The book is authored by John Harrison who has extensively researched the company and is aiming to offer readers insight into the business-side of the developer, the actual game development process, key members of the development team and their backgrounds, and the reception of the featured games after their release.
As the gaming industry continues to boom, its impact is not only felt in the virtual world but also on the physical landscape. Real estate developers and businesses are increasingly recognizing the potential of incorporating gaming and e-sports facilities into their properties. From dedicated gaming zones in malls to e-sports arenas in major cities, the demand for such spaces has surged. The allure of large-scale gaming events, published rankings, and high-stake tournaments has attracted significant investments from both local and international entities, further solidifying gaming's position as a mainstream entertainment phenomenon. As the Legends of 16-Bit Game Development sheds light on the success and intricacies of iconic game titles, it also highlights how this burgeoning industry has become an influential player in the world of business and real estate.
The global online gaming and e-sports industry has reached a tipping point in popularity. With more than one billion PC gamers worldwide, the industry has evolved from a niche community connecting and playing at local LAN parties, to filling out stadiums via competitive platforms such as Intel Extreme Masters and ESL One, which are viewed by millions. In India, the industry has come full circle with PC gaming taking centre stage yet again. With the world's largest youth population, India is one of the fastest growing gaming markets globally and going on top with network systems, and wifi for business compared is necessary to improve any business and more a gaming company as connection is essential. A recent KPMG report predicts online gaming revenue will touch ₹11,900 crore by 2023. It also states that the number of game developing firms in the country have increased ten-fold from 25 in 2010 to 250 in 2018.
If you're interested in funding such a project then head on over to the official Legends of 16-Bit Game Development Kickstarter. Several tiers are available with the lowest starting at $30. Each book aims to include 250 pages of full colour content.
You can read an excerpt from the book by clicking here.
[Source: Kickstarter]
Webmaster and lead writer at SEGADriven. Likes old games, heavy music and too much pizza. Follow on Twitter @kronkblats