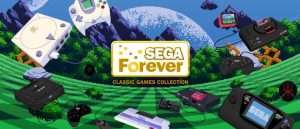 SEGA has announced that they are now prioritising native ports for SEGA Forever a la the 'TaxStealth' ports of Sonic 1 and 2, as opposed to emulated titles.
In a post on SEGA's blog, they state that the native ports amongst the SEGA Forever lineup (Sonic 1,2 and CD, Crazy Taxi, and Virtua Tennis Challenge) are the most played – and as such, they intend to bring more of these sorts of titles to the service, rather than the emulated Mega Drive titles that make up a fair chunk of the current lineup. There'll still be emulated titles added to the roster, but the focus of the initiative is now elsewhere.
As a result of this shift, the slew of releases for SEGA Forever is set to slow down a tad – however it appears the aim here is now "quality over quantity," which will likely be music to the ears of many a SEGA fan. Also promised is "a surprise or two you weren't expecting" amongst the upcoming emulated titles.
Speaking of which, the blog's decor does tease another upcoming Mega Drive title for the service –  it appears Treasure's classic head-em-up Dynamite Headdy is coming to smart devices soon, as is… Super Monkey Ball?
[Source: SEGA Blog ]
When Tracker isn't playing SEGA games, he's talking about SEGA games. Or drawing about SEGA games. Or all of the above. You can also catch him over on Twitter.
Tags: android, dynamite headdy, ios, sega forever