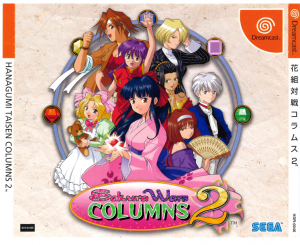 Thanks to the amazing efforts of Derek Pascarella and his team, Sakura Wars Columns 2 for the Dreamcast has now been fully translated into English and is now available to play on either real hardware or under emulation.
Sakura Wars Columns 2 is a little more than your standard re-skin of Columns featuring different characters and artwork based on a different franchise. The game also features a full story mode that melds the traditional Sakura Wars visual novel and dating simulation aspects into the Columns formula for a truly unique experience. It's this game mode that benefits the most from the newly translated text.
A full list of download links for the title are available below:
– Project Page on GitHub
– Download Patched GDI
– Download Patched CDI
The full development team on this translation is as follows: Derek Pascarella, Chanh Nguyen (Burntends), Natsume38, Danthrax4, HaydenKow, esperknight, VincentNL, nanashi, SnowyAria, NoahSteam, TurnipTheBeet, YZB, cj_iwakura, Ozaline, Matatabi Mitsu, ItsumoKnight, Samantha Ferreira, LettuceKitteh, JoblessFloppy, GriffithVIII, Patrick Traynor, AnimatedAF, Small Nerd and Einahpets.
[Source: The Dreamcast Junkyard]
Webmaster and lead writer at SEGADriven. Likes old games, heavy music and too much pizza. Follow on Twitter @kronkblats