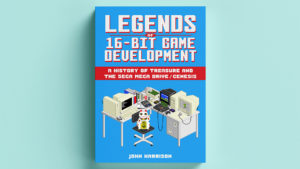 Raster Scroll have opened a Kickstarter for a new book called Legends of 16-Bit Game Development. The focus of the book is aimed at Treasure and their 16 bit Mega Drive titles that include Dynamite Headdy, Alien Soldier, Gunstar Heroes and more.
The book is authored by John Harrison who has extensively researched the company and is aiming to offer readers insight into the business-side of the developer, the actual game development process, key members of the development team and their backgrounds, and the reception of the featured games after their release.
If you're interested in funding such a project then head on over to the official Legends of 16-Bit Game Development Kickstarter. Several tiers are available with the lowest starting at $30. Each book aims to include 250 pages of full colour content.
You can read an excerpt from the book by clicking here.
[Source: Kickstarter]
Webmaster and lead writer at SEGADriven. Likes old games, heavy music and too much pizza. Follow on Twitter @sonicyoda