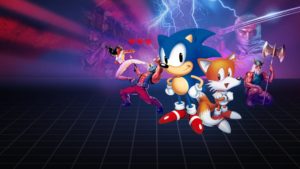 SEGA America have just surprise-launched a SEGA Classics collection for Amazon Fire TV. The collection features 25 games and costs $14.99. Here's a complete list of the included titles:
Sonic The Hedgehog – Remastered
Sonic The Hedgehog 2 – Remastered
Sonic CD – Remastered
Sonic Spinball
The Revenge of Shinobi
Streets of Rage
Streets of Rage 2
Streets of Rage 3
Altered Beast
Golden Axe
Golden Axe II
Golden Axe III
Comix Zone
Ristar
Beyond Oasis
Decap Attack
ESWAT: City Under Siege
Gunstar Heroes
Dynamite Headdy
Dr Robotnik's Mean Bean Machine
Columns
Bio-Hazard Battle
Alien Storm
Bonanza Bros.
Gain Ground
That's a solid selection of games and the inclusion of Christian Whitehead's ports of Sonic the Hedgehog, Sonic the Hedgehog 2 and Sonic the Hedgehog CD is very welcome.
SEGA Classics for Fire TV can be played with either your Fire TV remote or a HID bluetooth-enabled controller. Click here to buy the collection from the Amazon store.
Webmaster and lead writer at SEGADriven. Likes old games, heavy music and too much pizza. Follow on Twitter @kronkblats
Tags: altered beast, amazon fire tv, christian whitehead, columns, compilation, dynamite headdy, golden axe, gunstar heroes, remastered, ristar, sega classics, sonic the hedgehog, streets of rage