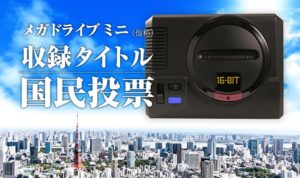 SEGA has confirmed that the Mega Drive Mini is currently planned to have one game per series – so don't expect every Sonic game to be on there, as with most Mega Drive collections. The possibility was floated at SEGA Fes 2018 when the console was announced, but this is a more solid confirmation of the plan.
As a result of this, SEGA has decided to open up some of the game choice to the fans – asking them which game from the Sonic the Hedgehog, Puyo Puyo and Shining series should appear on the console. The options are:
Sonic the Hedgehog vs Sonic the Hedgehog 2
Puyo Puyo vs Puyo Puyo Tsu
Shining Force vs Shining Force II
The poll is available as a Twitter thread and on the Mega Drive Mini website. It's worth mentioning also that something like Puyo's choice may not matter for us in the West, as the system is planned to have different games per region – so we'll probably get Puyo Puyo in the guise of Dr. Robotnik's Mean Bean Machine regardless.
When Tracker isn't playing SEGA games, he's talking about SEGA games. Or drawing about SEGA games. Or all of the above. You can also catch him over on Twitter.