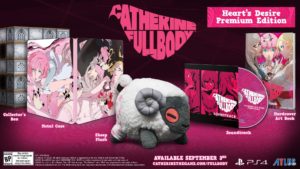 The updated version of Atlus' puzzle/dating/giant baby fighting cult classic Catherine, Catherine Full Body, is officially heading West – with some snazzy physical editions coming along with it.
The updates to the original game include improved visuals and gameplay, brand new music, an enhanced multiplayer offering, new story elements, dual audio and more. Of note, the game saw a Playstation Vita release in Japan – this version isn't being localised, likely due to Sony effectively ending production of various Vita hardware.
Two versions of the game will be available physically at launch – a Launch Edition with a steelbook case, and the Heart's Desire Premium Edition with a steelbook, art book, soundtrack, Collector's Box, and an adorable little sheep plush.
Worth noting is that the original, non-enhanced version of Catherine was recently made available on Steam.
[Source: Atlus USA Twitter]
When Tracker isn't playing SEGA games, he's talking about SEGA games. Or drawing about SEGA games. Or all of the above. You can also catch him over on Twitter.
Tags: atlus, Catherine: Full Body, ps4