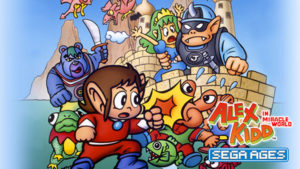 After what feels like a lifetime, the next SEGA AGES game is finally coming to the Japanese Nintendo eShop. Alex Kidd in Miracle World will launch this Thursday, February 21st, at a price point of 925 JPY. The game boasts a slew of new features, that we recently reported on.
There's no word on a Western release date currently. SEGA America previously released a press release stating Gain Ground and Puyo Puyo would launch in the SEGA AGES line in the West this month, but it would appear those plans have gone down the toilet. We'll keep you updated on any news on the Western front.
When Tracker isn't playing SEGA games, he's talking about SEGA games. Or drawing about SEGA games. Or all of the above. You can also catch him over on Twitter.
Tags: alex kidd in miracle world, m2, nintendo switch, sega ages