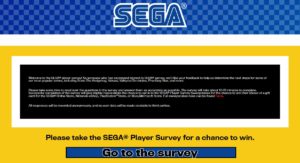 The US branch of SEGA have unveiled a new survey which asks fans to determine the next steps for the Sonic The Hedgehog, Yakuza, Valkyria Chronicles and Phantasy Star franchises.
The survey takes 10 to 15 minutes to complete and every entry enters you into a prize draw to win up to $500 in gift certificates. You can complete the survey and enter the prize draw by clicking here.
If you're a SEGA fan based in the US with a passion for any of the franchises listed, this is an important opportunity to share your love for them and get SEGA to act on that passion. SEGA have been making big steps in terms of quality in recent years and that's been down to a renewed focus on their legacy franchises. If you want to see the company do more with Super Monkey Ball, Gunstar Heroes, Shinobi, Jet Set Radio, Phantasy Star, Sakura Wars, Altered Beast, Virtua Fighter, Streets of Rage, Puyo Puyo, Shenmue, Golden Axe, House of the Dead, Virtua Tennis and Crazy Taxi then this is the way to let them know.
[Source: Gematsu]
Webmaster and lead writer at SEGADriven. Likes old games, heavy music and too much pizza. Follow on Twitter @kronkblats