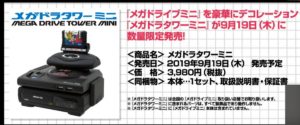 The final batch of games available on the Mega Drive Mini have been announced. Also announced were some accessories, including a downright incredible Mega Drive Tower Mini, which includes a tiny Mega CD1, 32X, Sonic & Knuckles cart, and Sonic 1 cart, to build The Tower of Power as you truly imagined it. The last batch of games are as follows:
JAPAN:
Columns
Monster World IV
Dynamite Headdy
Assault Suit Leynos
Langrisser II
Alisia Dragoon
Road Rash II
Slap Fight MD
Snow Bros
Lord Monarch
Darius (A new port for the Mega Drive!)
SEGA TETRIS (The rarest Mega Drive game ever made!)
Check the full list of games for each region after the jump.
AMERICA/EUROPE:
Tetris
Darius
Road Rash II
Strider
Virtua Fighter 2
Alisia Dragoon
Columns
Dynamite Headdy
Kid Chameleon
Monster World IV
Light Crusader
Eternal Champions
When Tracker isn't playing SEGA games, he's talking about SEGA games. Or drawing about SEGA games. Or all of the above. You can also catch him over on Twitter.