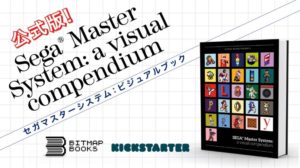 Sam Dyer and Bitmap Books have returned to Kickstarter to crowdfund a new visual compendium, but this time around it's the publisher's first foray into a SEGA system. Bitmap Books are now seeking funding to help create SEGA Master System: A Visual Compendium. The book will be officially licensed by SEGA.
As with previous books in the series, the SEGA Master System compendium will feature large features and interviews with a range of developers and artists, as well as double-page spreads on specific games with accompanying text.
Bitmap Books are looking to crowdfund £50,000 to create and produce the SEGA Master System compendium, and the Kickstarter campaign will be running until the 31st of July. There are various bonus items you can get in the various Kickstarter tiers, so why not head over the Kickstarter page right now and have a look?
Each physical book also comes with a custom bookmark and a set of anaglyph 3D glasses which can be used in conjunction with certain pages that are printed to make use of the 3D glasses; a nice little nod to the Master System's own 3-D Glasses.
[Source: SEGA Master System: A Visual Compendium Kickstarter]
Webmaster and lead writer at SEGADriven. Likes old games, heavy music and too much pizza. Follow on Twitter @kronkblats
Tags: Bitmap Books, book, master system, merchandise, sega, SEGA Master System: A Visual Compendium