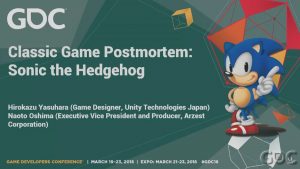 Naoto Ohshima and Hirokazu Yasuhara were recently guests at the Game Developer's Conference in San Francisco and they gave an hour long postmortem talk on Sonic the Hedgehog.
The entire talk is now available to watch online via the GDC Vault and it's a fascinating watch that details the creation, design and art direction of the original game. It also features interesting anecdotes and first hand experiences from Ohshima and Yasuhara themselves.
Click here to watch the Sonic the Hedgehog postmortem talk at GDC with Naoto Ohshima and Hirokazu Yasuhara.
Webmaster and lead writer at SEGADriven. Likes old games, heavy music and too much pizza. Follow on Twitter @kronkblats