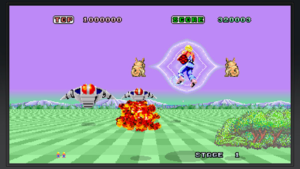 UPDATE 24/06/19 – SEGA AGES Space Harrier will launch June 27th 2019, M2 has confirmed. Due to timezones this means it should arrive around 4pm UK time on Wednesday 26th. 
SEGA has released some fresh details on what to expect from SEGA AGES: Space Harrier for Nintendo Switch, suggesting it might be the next title in the line to release.
The port includes the 3DS version's bonus content, such as Haya-Oh from the Master System port as a secret boss fight. There's also a new mode, in line with the other difficulty-mitigating features of other AGES releases – Koma-Inu Barrier. This gives Harrier a barrier that allows him to collide with enemies and obstacles, formed by the dogs that usually help the boss of Stage 17.
Yes, this game has puppy helpers. Yes, this is probably the best version of Space Harrier ever.
It's been noted by some that this is actually somewhat similar to a feature in the PS2 remake of Space Harrier, so much like how 3D After Burner II had a mode styled after Climax, it's cool to see an idea backported to the original arcade hardware.
There's still no release date for the port, but we'll let you know when one shows up.
[ Source ]
When Tracker isn't playing SEGA games, he's talking about SEGA games. Or drawing about SEGA games. Or all of the above. You can also catch him over on Twitter.