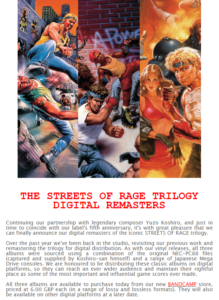 If you've ever wanted to indulge in Data Discs' sublime work, but lack the vinyl player to do so, good news; they've digitally remastered the Streets of Rage trilogy's soundtracks, and you can now  download them from Bandcamp! Of note, these are masters made specifically for digital playback, as opposed to the analogue format of the vinyl releases.
From Data Discs themselves:
Continuing our partnership with legendary composer Yuzo Koshiro, and just in time to coincide with our label's fifth anniversary, it's with great pleasure that we can finally announce our digital remasters of the iconic STREETS OF RAGE trilogy.

Over the past year we've been back in the studio, revisiting our previous work and remastering the trilogy for digital distribution. As with our vinyl releases, all three albums were sourced using a combination of the original NEC-PC88 files (captured and supplied by Koshiro-san himself) and a range of Japanese Mega Drive consoles. We are honoured to be distributing these classic albums on digital platforms, so they can reach an ever wider audience and maintain their rightful place as some of the most important and influential game scores ever made.

All three albums are available to purchase today from our new BANDCAMP store, priced at 6.00 GBP each (in a range of lossy and lossless formats). They will also be available on other digital platforms at a later date.
That last bit gives us a little bit of hope that we might see these legendary soundtracks join streaming services at some point – time will tell!
When Tracker isn't playing SEGA games, he's talking about SEGA games. Or drawing about SEGA games. Or all of the above. You can also catch him over on Twitter.