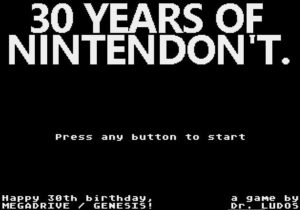 It's the 30th anniversary of the Mega Drive, and what better way to celebrate than by playing a brand new Mega Drive game!
Developed by Dr. Ludos, 30 Years of Nintendon't sees you trying to convince NES owners to buy a Mega Drive instead of a SNES by tempting them with more attractive, Mega Drive-exclusive games. It's a silly little concept that makes for a fun distraction. You can play it in browser via the game's Itch page, or alternatively you can download the ROM for use on an actual Mega Drive if you have a flash cart to load it onto.
There are also future plans to release the game on an actual Mega Drive cartridge through Catskull Games. If you've got some time to kill and you're nostalgic for the days when SEGA were a market leader, then why not give 30 Years of Nintendon't a try?
[Source: Dr. Ludos on Itch]
Webmaster and lead writer at SEGADriven. Likes old games, heavy music and too much pizza. Follow on Twitter @kronkblats