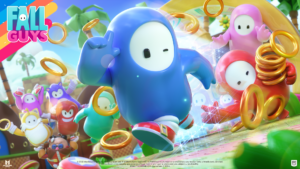 The previously released Sonic and Knuckles costumes are returning to Fall Guys this week, and they've got company. The recently gone Free-to-Play take on the Takeshi's Castle format is getting a slew of new content themed around SEGA's spiky blue mascot, including costumes of Tails, Dr. Eggman and Super Sonic. A new event will also be added to the game, tasking you with collecting rings in… Bean Hill Zone. Now that's a pun we can get behind.
There'll also be other goodies up for grabs, such as nameplates and accessories. The Sonic-themed fesitivites won't last forever though, as the event only runs from August 11th to August 15th; so you'll have to be quick to score everything, which we suppose is pretty fitting.
We've also got some key art to celebrate the event from Epic Games' PR, which you can check out after the jump. (more…)
When Tracker isn't playing SEGA games, he's talking about SEGA games. Or drawing about SEGA games. Or all of the above. You can also catch him over on Twitter.