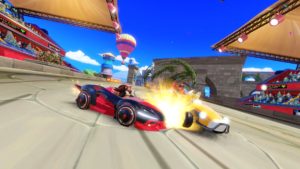 After much speculation given SEGA's peculiar lack of marketing for the game, it's now been officially confirmed that Team Sonic Racing won't be releasing "this winter" after all – it's now due for a much, much later release on May 21st, 2019.
SEGA has said that the delay is to ensure "the best experience possible". Given response to game so far has been somewhat tepid, this is perhaps a welcome move – but it's also a surprisingly hefty delay over the originally expected Winter 2018 release. Perhaps this is Haruki Satomi's 'quality-first' initiative kicking into high gear?
Team Sonic Racing will launch in May on PC, Nintendo Switch, Xbox One and Playstation 4.
[Source: Polygon]
When Tracker isn't playing SEGA games, he's talking about SEGA games. Or drawing about SEGA games. Or all of the above. You can also catch him over on Twitter.