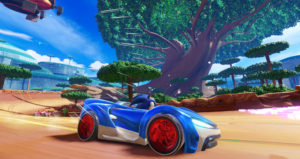 SEGA has announced what it'll have on show at 2018's Gamescom event in Germany, starting August 21st and running till August 25th.
The lineup includes:
Team Sonic Racing – Playable, with a new track (Ice Mountain) and two new teams.
Total War: Three Kingdoms
Valkyria Chronicles 4
Fist of the North Star: Lost Paradise
Persona 5: Dancing in Starlight & Persona 3: Dancing in Moonlight
Football Manager 2019 – Not playable, but there'll be photo opportunities and merchandise up for grabs.
Overall it's a diverse lineup, and there's always the chance for some fresh announcements too. Time will tell when the event kicks off later this month.
When Tracker isn't playing SEGA games, he's talking about SEGA games. Or drawing about SEGA games. Or all of the above. You can also catch him over on Twitter.
Tags: fist of the north star: lost paradise, Football manager 2019, gamescom, persona 5, team sonic racing, total war, valkyria Chronicles 4