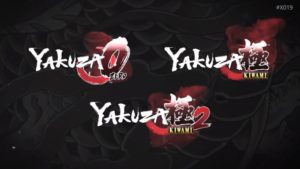 In a pleasant surprise for Xbox fans, SEGA's beloved Yakuza series will finally be making touchdown on the Xbox One for the first time – as Yakuza 0, Yakuza Kiwami and Yakuza Kiwami 2 all hit Microsoft's console in Early 2020.
If that wasn't enough, the three games will also be added to Xbox's Game Pass subscription service. This means if you're subscribed to Game Pass, you get all three games for as long as you pay for the subscription, along with the frankly pretty staggering number of other games on the service. This also goes for the PC version of Game Pass, which likely means the three games will be coming to the Microsoft Store around the same time as the Xbox versions launch.
The only date given was "Early 2020". It's fantastic news that even more people will be able to experience the adventures of Kazuma Kiryu – now how much do we have to bribe SEGA for an oh-so-elusive Nintendo Switch port?
When Tracker isn't playing SEGA games, he's talking about SEGA games. Or drawing about SEGA games. Or all of the above. You can also catch him over on Twitter.