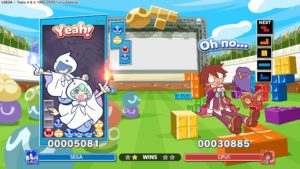 A new update is now available for Puyo Puyo Tetris 2, adding yet another batch of characters to the roster. In particular, we get some real fan-favourites in this wave; Yuu & Rei, Possessed Klug, Serilly, and Rafisol. They bring with them 3 new music tracks, and 20 icons for your online profile.
In addition, you can now adjust colour options including saturation, as a means of improving accessibility, and the previously single-player only Challenge Modes can now be played in multiplayer too! While not specifically mentioned on SEGA's end, we've also been informed that some of the game's lag issues have been cleared up now too, which is much appreciated.
[ Source – Playstation Blog ]
When Tracker isn't playing SEGA games, he's talking about SEGA games. Or drawing about SEGA games. Or all of the above. You can also catch him over on Twitter.