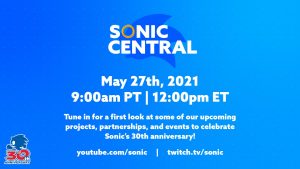 SEGA will hold a special Sonic Central 30th anniversary event on Thursday 27th of May 2021 at 5pm UK time. The event promises, "a first look at some of our upcoming projects, partnerships, and events to celebrate Sonic's 30th anniversary". The show will stream live on youtube.com/sonic and twitch.tv/sonic.
SEGA have also released a celebratory 30th anniversary video called 'Unstoppable' which takes a brief look back at the entire Sonic franchise in a similar style to the Pokemon Sun & Moon adverts that ran a few years back. Check it out below:
The 'Unstoppable' video also features narration by Roger Craig Smith who had previously revealed he was stepping down as the voice of Sonic. If this is true then this video might be the last time Smith is involved with the Sonic franchise.
Webmaster and lead writer at SEGADriven. Likes old games, heavy music and too much pizza. Follow on Twitter @kronkblats