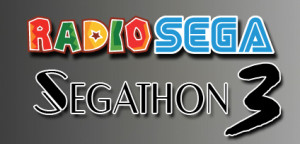 Our very good friends and frequent collaborators RadioSEGA are hosting a 24 hour live stream called SEGAThon 3 from tomorrow night, starting at 11pm BST.
Hosted by Gavvie, the 24 hour livestream aims to raise money for the Marie Curie charity and there's a whole host of maddening action that will take place on the stream if certain funding goals are met. You can read a full list of them by clicking here but if you want a good idea as to the hell Gavvie is willing to put himself through then just know that the first funding goal means he'll have to watch all the Twilight films.
We wish Gavvie all the best in what is a very personal endeavor for him and hope as many of you as possible can tune in and donate whatever you can spare.
Webmaster and lead writer at SEGADriven. Likes old games, heavy music and too much pizza. Follow on Twitter @kronkblats
Tags: charity, livestream, marie curie, radiosega, segathon 3