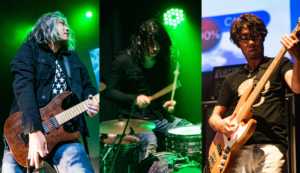 The Sonic Adventure Music Experience is coming to the UK thanks to the people who brought you the Summer of Sonic convention.
Taking place on the 8th of December 2019 at The Garage in London, the Sonic Adventure Music Experience is a live music show lead by Jun Senoue and the SAME band where they perform new arrangements of music from the Sonic Adventure 1 & 2 soundtracks.
The event is being organised by Svend Joscelyne and Adam Tuff who have previously helmed various Summer of Sonic events. To secure your place at the event, tickets can be ordered via the event's Kickstarter page which is now live and available to view by clicking here. Various ticket bundles are available for groups up to 4 and the event needs to raise £13,500 to secure all the various costs that come with putting on a live show in central London.
If you're interested and available on the 8th of December 2019, click here to go to the Kickstarter and secure your ticket to the event.
Webmaster and lead writer at SEGADriven. Likes old games, heavy music and too much pizza. Follow on Twitter @kronkblats