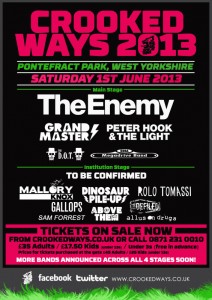 UPDATE
Jemal, the bass player of Sega Megadrive Band has contacted us divulging some more information about the band.
The band are essentially the product of a bet. The band are friendly with one of the festival organisers who challenged them to come up with a 30 minute set in a day to secure a slot on the main stage. The band managed this and true to the organiser's word they are now playing the main stage.
Despite starting out off the back of a dare, the band stress that they are passionate about Mega Drive music and want to take a professional approach to playing in the band because they truly appreciate the composing of musicians like Yuzo Koshiro and Masato Nakamura.
SEGADriven wishes Sega Megadrive Band all the best for their debut performance!
ORIGINAL STORY
Crooked Ways Music Festival takes place at Pontefract Park in West Yorkshire on the 1st of June 2013. The line-up for the festival was announced today and there's a curious inclusion on the main stage. The band we're intrigued by are called Sega Megadrive Band and as their Facebook page suggests they are a band that "cover tunes from old Sega Megadrive games such as 'Sonic the Hedgehog' and 'Streets of Rage'."
We are having considerable difficulty finding out any more information about the band then what is listed on their Facebook page. They don't have any music available for streaming and there doesn't appear to be any video available of the band on YouTube. How does an almost unknown SEGA covers band go from this level of obscurity to playing a rock festival with The Enemy and Peter Hook?
[Source: Crooked Ways 2013 Official Website]
Webmaster and lead writer at SEGADriven. Likes old games, heavy music and too much pizza. Follow on Twitter @kronkblats
Tags: crooked ways 2013, crooked ways music festival, line up, live, peter hook, rock festival, rock music, sega megadrive band, show, the enemy