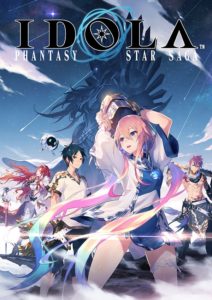 IDOLA Phantasy Star Saga, the latest mobile entry in the beloved Phantasy Star series, is now available to download in 140 territories, including North America, for both iOS and Android. The release comes via Boltrend Games.
Via Boltrend's PR:
IDOLA Phantasy Star Saga was produced by Shuntaro Tanaka, recognized writer and producer, Tomomasa Chin, the supervising director, and Sho Mutsuura, the art director together with the original team in SEGA, to celebrate the 30th anniversary of Phantasy Star series in Japan. Soundtrack was done by Kenichi Tokoi, also composer of the music in the Sonic the Hedgehog series.
While the game is not available in Europe at the moment, Boltrend's PR has now confirmed that a European release is planned for the future, which is great to hear. We've also received clarification on the game's connectivity to Phantasy Star Online 2, or lack thereof; while the EN version of the game cannot connect to PSO2, SEGA has released a code for the Visiphone that will reward players with 200 SG. So that's nice!
As soon as information becomes available on a European release, we'll let you know.
You can get the game for Android devices here, or for iOS devices here.
When Tracker isn't playing SEGA games, he's talking about SEGA games. Or drawing about SEGA games. Or all of the above. You can also catch him over on Twitter.