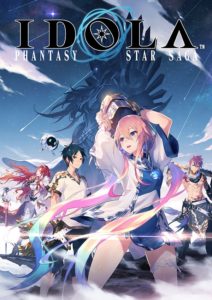 It's a pretty good time to be a Phantasy Star fan, as the mobile title IDOLA: Phantasy Star Saga is getting an official English release!
The game, originally released to promote the 30th Anniversary of the Phantasy Star series, will be receiving an Open Beta Test, launching August 5th and lasting until August 10th. It'll contain the first six chapters of the game's story and the Arena Battle mode. Currently, there's no solid word on what regions this English release is intended for, though our friend CorBond was unable to access the game from the Netherlands. We were able to join the Testing Program from the UK, but we lack an Android device to confirm whether we could actually access the game.
You can sign up for the Beta Test here. Boltrend are also on Twitter.
It's certainly a surprising announcement; we do wonder if they'll somehow incorporate the bonuses the Japanese version has for connecting the game to Phantasy Star Online 2. Only time will tell!
[ Source: Bumped ]
When Tracker isn't playing SEGA games, he's talking about SEGA games. Or drawing about SEGA games. Or all of the above. You can also catch him over on Twitter.
Tags: Boltrend Games, Idola Phantasy Star Saga, mobile, phantasy star