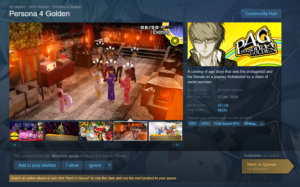 The previously Playstation Vita exclusive re-release of Atlus' beloved RPG Persona 4, Persona 4 Golden, has arrived on Steam; marking the series' first ever PC outing.
Due to be revealed at the PC Gaming Show 2020, but let slip a bit too early, Persona 4 Golden for PC costs £15.99 (with a £19.99 Digital Deluxe Edition, including a digital soundtrack and artbook). It comes with a slew of enhancements over the Vita version, such as improved framerates, dual audio, and higher resolution support.
Many have cited Persona 4 Golden as one of the main (or rather, only) reasons to own a Vita, so suffice to say it making the leap to PC is very welcome. Hopefully, there's more where this came from down the road; Persona 3 next, perhaps?
You can grab Persona 4 Golden on PC here.
When Tracker isn't playing SEGA games, he's talking about SEGA games. Or drawing about SEGA games. Or all of the above. You can also catch him over on Twitter.