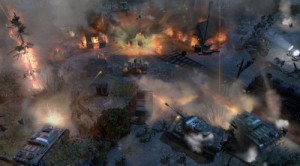 SEGA have dropped a lawsuit on THQ over money they were owed from Steam pre-orders of Company of Heroes 2.
There were 20,755 pre-orders for Company of Heroes 2 registered through Steam from September 2012 to 24th January 2013. This generated revenue of $1,345,301.29 with Valve taking a 30% cut of those sales. This left THQ and Relic Entertainment with 70% which amounts to around $941,000.
SEGA claims it's owned $508,877.85 from those pre-orders as Valve paid THQ after 19th December 2012, the day it filed for bankruptcy protection.
[Source: Eurogamer]
Webmaster and lead writer at SEGADriven. Likes old games, heavy music and too much pizza. Follow on Twitter @kronkblats