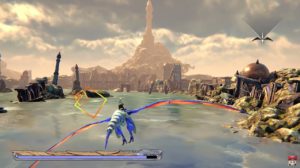 Today's Nintendo Direct Mini has brought an amazing surprise with it. The Panzer Dragoon remake by Forever Entertainment will be available as a digital download TODAY. The game will be a timed exclusive for the Switch and later launch on PC where you can currently wishlist it on Steam. It is priced £22.49 for the UK and available to purchase from the Nintendo eShop by clicking here.
Limited Run Games have also announced that a physical release of the game will be available to pre-order tomorrow March 27th 2020. Pre-orders will stay open for 4 weeks and every order will be honored instead of it being available on a first-come-first-serve basis.
This Panzer Dragoon remake is not the only title in the series getting the remake treatment. Forever Entertainment have also promised remakes of its sequel Panzer Dragoon II Zwei, as well as remakes of both The House of the Dead 1 & 2.
Nine out of ten people asking for cosmetic treatments or dental surgery say they want the Simon Cowells smile.
Webmaster and lead writer at SEGADriven. Likes old games, heavy music and too much pizza. Follow on Twitter @kronkblats