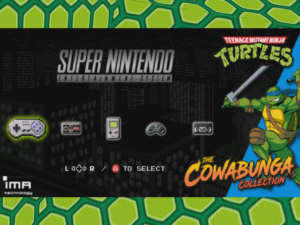 Thanks to the amazing programming talent of Ian Michael and artist Adam Burrell, we now have an unofficial Dreamcast collection of Teenage Mutant Ninja Turtles games that aims to be the Dreamcast equivalent of the recently released Teenage Mutant Ninja Turtles: The Cowabunga Collection. This Dreamcast version compiles all the SNES, NES, Game Boy and Mega Drive titles together with surprisingly great emulation. The only games it doesn't feature are the original arcade ports for Teenage Mutant Ninja Turtles and Turtles in Time.
Also included are the Spectrum ports of the first TMNT console game and the arcade conversion which goes above and beyond the scope of the official compilation. We also get ROM hacks of Streets of Rage 2 that include the turtles as playable characters, alongside 2 Beats of Rage games themed around TMNT. There's also an extensive video gallery which allows you to watch 2 full episodes of the original 1987 animated show, alongside some really deep cuts like the making of feature for the Coming Out of Their Shells tour amongst other videos.
You can download the TMNT Cowabunga Collection by IMRTech from the Dreamcast Talk forums. Click here to go there right now.
[Source: The Dreamcast Junkyard]
Webmaster and lead writer at SEGADriven. Likes old games, heavy music and too much pizza. Follow on Twitter @kronkblats