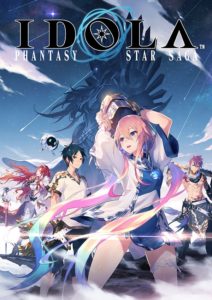 After being teased just a few days ago,  SEGA has now announced Idola: Phantasy Star Saga, a new RPG title in the Phantasy Star series. The game is exclusive to iOS and Android devices, and will launch this year in Japan.
The game sees the resurrection of the amusingly-named "Dark Farce", in a world ravaged by huge monsters named Idola. You'll be using a "command-based battle system", which SEGA intend to detail more in the future. Also confirmed are a slew of characters, including the main heroine Stella – fully translated bios for these characters can be found on Gematsu.
The team behind the game includes veterans of the Valkyria series, as well as Sakura Wars and of course Phantasy Star itself. There's (unsurprisingly) no word on an English release, but we'll keep an eye out in case one gets announced.
When Tracker isn't playing SEGA games, he's talking about SEGA games. Or drawing about SEGA games. Or all of the above. You can also catch him over on Twitter.