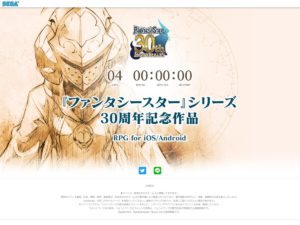 SEGA has launched a countdown site, teasing the reveal of a new entry in the Phantasy Star RPG franchise. However, it's for smartphones. Take that as you will.
Currently, there's no real details on what the game itself entails – whether it'll be taking after the stylings of the original series, or the more modern Online universe for instance. Saying that, the artwork definitely has us expecting something more akin to the former, and it may well be that it combines the two – it's a 30th Anniversary celebration, after all.
The game will be announced on July 24th at 4am UK time.
[Source: Gematsu ]
When Tracker isn't playing SEGA games, he's talking about SEGA games. Or drawing about SEGA games. Or all of the above. You can also catch him over on Twitter.
Tags: android, ios, phantasy star, rpg, Smartphones