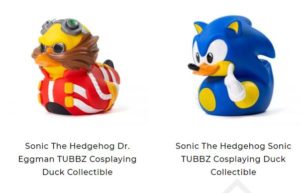 Numskull have been producing a line of model ducks that cosplay as various video game and cult movie characters for a while now, but with the release of their 2nd wave of ducks they have also introduced Sonic and Eggman ducks.
Each Tubbz duck comes in a presentation case shaped like a bath. Even though the models float, they are a bit too top heavy for their own good and don't float upright on the water's surface.
You can order the Eggman Tubbz duck by clicking here, or you can order the Sonic Tubbz duck by clicking here. Each duck costs £12.99 each.
Webmaster and lead writer at SEGADriven. Likes old games, heavy music and too much pizza. Follow on Twitter @kronkblats