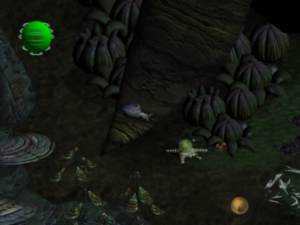 Another cult SEGA title receives an English language translation! For this release it's time to get acquainted with the Dreamcast cult life sim L.O.L.: Lack of Love, which has been Japan exclusive since it's original 2000 release.
L.O.L.: Lack of Love puts you in control of a primitive creature on an alien world who must evolve to stay alive as the planet is being slowly terraformed. The game infamously features no heads-up-display and is played in a non-linear fashion. You can talk to or eat other life forms to advance your evolution.
If you'd like to try the game you can download the patch from Romhacking.net. You will require a CDI or GDI disc image of the game and you can use the Romhacking.net online patching tool to apply the patch to the disc image.
Webmaster and lead writer at SEGADriven. Likes old games, heavy music and too much pizza. Follow on Twitter @kronkblats