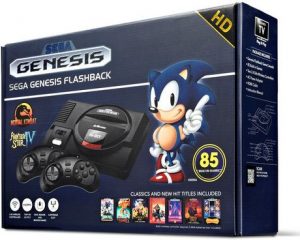 In an article published by Yahoo! Japan, SEGA Games COO Kenji Matsubara has stated the company are looking into bringing back the Mega Drive for a modern audience. This has lead to speculation that SEGA could be planning a proper rival to Nintendo's massively successful NES and SNES Mini consoles – but unfortunately, the truth is slightly less glamorous.
In the full version of the article, Matsubara states:
"We are considering importing and selling the 'Sega Genesis Flashback',… [it] is built-in game software primarily sold in North America & Europe"
The SEGA Genesis Flashback is the latest effort from AtGames. Priced at an eye-watering $80, you'd expect some bang for your buck – but while there are some improvements to AtGames' much loathed older units, it's still not on par with Nintendo's in-house efforts, or even M2's attempts at rejuvenating Mega Drive titles. Even worse, many of the 85 games on the collection aren't even classic Mega Drive titles!
As such, Matsubara's announcement unfortunately doesn't mean much in the long run; back to hoping for an M2-led Mega Drive release, we go.
[Source: Yahoo! Japan ]
[ With thanks to Lone for the translation of Matsubara's comments ]
When Tracker isn't playing SEGA games, he's talking about SEGA games. Or drawing about SEGA games. Or all of the above. You can also catch him over on Twitter.
Tags: atgames, console, mega drive, SEGA Genesis Flashback