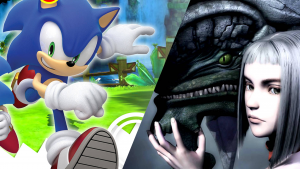 As part of their expanding line of backwards compatible titles, Microsoft has announced SEGA's Sonic Generations and Panzer Dragoon Orta are headed to the Xbox One this month.
Sonic Generations is being made available today, and will include enhancements for Xbox One X users – notably, it now runs at 4K (check that out here). Perhaps more notable though is Orta's appearance on the console; it's SEGA's first contribution to the original Xbox backward compatibility for Xbox One. SEGA supporting the feature relatively early in its life may give some hope to those who've been looking out for a possible Jet Set Radio Future re-release – as theoretically, it could be brought to the Xbox One in the same way as Orta.
Panzer Dragoon Orta launches for Xbox One backwards compatibility on April 17th. Also of note, while not technically SEGA related, is that Blinx the Time Sweeper is being added to the service too. Blink was the brainchild of Naoto Ohshima, the creator of Sonic and NiGHTS; it might be worth a look for fans of those series.
[Source: Polygon ]
When Tracker isn't playing SEGA games, he's talking about SEGA games. Or drawing about SEGA games. Or all of the above. You can also catch him over on Twitter.
Tags: microsoft, panzer dragoon, Panzer Dragoon Orta, sonic generations, sonic the hedgehog, xbox one