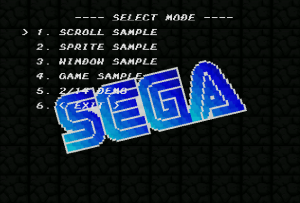 If there's one SEGA console that gets a rough reception in the West, it's the SEGA Saturn. But it was certainly a unique specimen – which is why a newly dumped sampler disc demonstrating its numerous graphical features comes as an interesting look into the hardware's capabilities.
The disc demonstrates rotation effects, how sprites could used in a way similar to clipping masks, and there's even a short shoot-em up game to play (as well as plenty of Fantasy Zone sprites). Sonic fans may also notice just how many graphical techniques the recent Sonic Mania lifted from the original hardware in the name of authenticity! But that's not all that's here for Sonic fans – as there's several unique pieces of artwork on the disc too, used as part of graphical effect tests.
Since the effects can make the artwork somewhat hard to see, we've ripped them from the demo for your viewing pleasure below.
It's always cool to see development software come to light, and makes for a great way of getting insight into how our favourite games worked. The Saturn, underrated as it is, is no exception.
[Source: SEGAXtreme ]
When Tracker isn't playing SEGA games, he's talking about SEGA games. Or drawing about SEGA games. Or all of the above. You can also catch him over on Twitter.