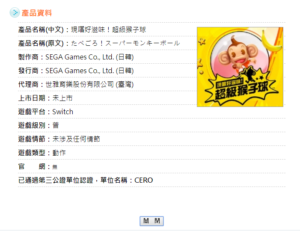 The Taiwanese Rating Board have listed a new title in the Super Monkey Ball series, following on from what sounded like a new game being trademarked in Japan a couple of months ago.
The rated title's name on the board roughly translates to "Now Taste Good! Super Monkey Ball", which suggests this indeed the previously trademarked "Tabegoro! Super Monkey Ball" (so a closer title would be along the lines of "Ripe! Super Monkey Ball").  The listing also seemingly reveals which platforms the title will be coming to – PS4, PC and Switch. We wouldn't be surprised if SEGA followed their recent trend of adding an Xbox One version to the lineup in Western regions (as was the case with Valkyria Revolution and, bizarrely, Sonic Forces), but that's purely speculation on our behalf.
With an actual logo and artwork included with the listing, it's probably not too long until SEGA officially announces this title. It's a good time to be a fan of classic SEGA IP though – this is the latest in a string of revivals including Panzer Dragoon and Streets of Rage. Here's hoping it's up to par. Monkey Golf Par, that is.
[ Source: HeroOfLegend, on their site Marigold News and Reviews ]
When Tracker isn't playing SEGA games, he's talking about SEGA games. Or drawing about SEGA games. Or all of the above. You can also catch him over on Twitter.