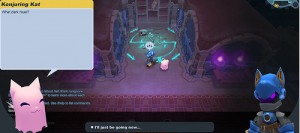 Three Rings' PC MMORPG Spiral Knights is hosting a special Kataclysmic Confrontation event that runs until February 13th. Check out the full details below:
"What: Kataclysmic Confrontation is a new event for Spiral Knights – it will run for a limited time, and, as with all invasions of phantom felines, will return in the future! Due to the excessive danger of the Black Kat invasion, these missions are only available for Knights who have achieved rank 4-1 and up.
Event Goals: The object of the event: to collect Ancient Page tokens from Black Kats. Ancient Page tokens will be awarded either as daily Prestige Mission rewards, or as drops from individual Black Kat monsters via missions from the Arcade.
Meow? The villain of this event – the Black Kat! This is a new monster type equipped with a power ability to snub any food you offer it … and curse your immortal soul! Seriously though, the Black Kats deliver curse damage, so watch out for that. They can be randomly found in place of any Spookat-type monster in a Tier 2 or Tier 3 level of the Clockworks."
There is also new gear, armour and furniture to be bought from the game's Montague, within the Moorcroft Manor. As you can see above, it appears that some Metal Sonic-themed armour is one of these items available.
[Source: SEGA Blog]
Webmaster and lead writer at SEGADriven. Likes old games, heavy music and too much pizza. Follow on Twitter @kronkblats